Worthington Biochemical - Bulk/OEM
Worthington is a privately owned, ISO9001 Certified primary producer of purified enzymes, proteins and nucleic acids for biotech and life science research, diagnostic, biopharmaceutical and bioprocessing applications under GMP guidelines. Our reputation for producing quality products for life science applications is the result of over 70 years of experience. In-house, full-service capabilities include initial extraction, fermentation, protein purification, and lyophilization to meet the demanding needs of the diagnostic reagent manufacturer.

All animal-based raw materials supplied to Worthington are obtained from United States Department of Agriculture (USDA) approved facilities, inspected and certified to be healthy, free of disease and suitable for human consumption and/or exportation.  All slaughtered animals are given ante and post-mortem inspections and those that are found to be wholesome are passed for human consumption.

All manufacturing and purification takes place at Worthington's facilities located in Lakewood, New Jersey, USA. An Animal Products Material Certification can be provided by Worthington if required along with copies of raw material suppliers' certifications.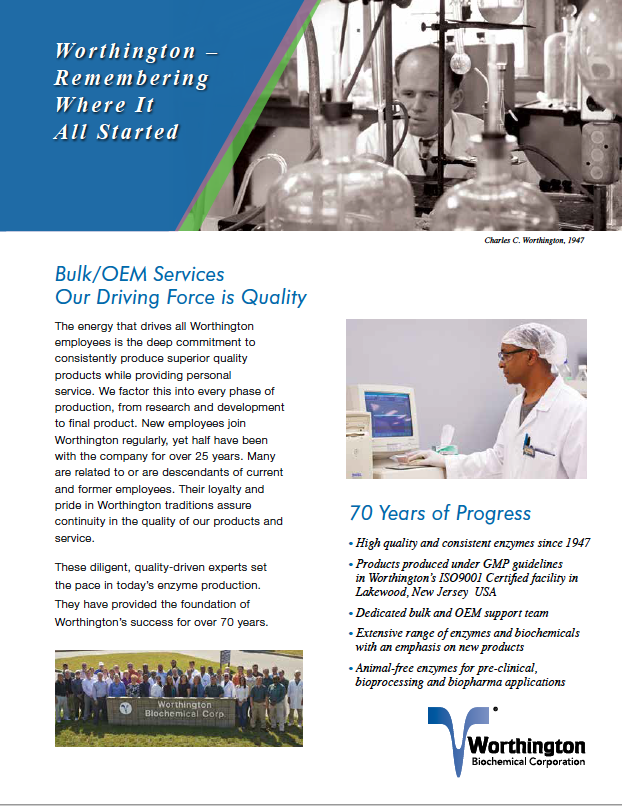 Bulk/OEM Enzyme Purchasing
As a primary manufacturer, Worthington can supply products in a wide range of purity and activity specifications and in large-scale bulk quantities at substantial discounts. In addition, we welcome inquiries for contract and custom manufacturing, custom analysis and special packaging for OEM applications. Several products are listed as Bulk Only in our product catalog due to limited availability. Please contact Customer Service or our Bulk Sales Office to discuss your specific requirements.