Worthington is a primary producer of enzymes, biochemicals and kits for life science and neuroscience applications. The Worthington Tissue Dissociation Guide provides a general introduction to the theory and techniques involved in primary cell isolation as well as a set of annotated references specific to neural cell isolation.
We are offering a limited time 20% discount on the Papain products listed below for your online or offline ordering. Just use this discount code at checkout EANSFN22.
Institutional discounts apply up to the 20% maximum discount, however void where prohibited by institutional policy. Limited domestic offer expires 12/15/22, or while supplies last.
Additional Information
Image
While many researchers have successfully used collagenase or trypsin for tissue dissociation, we generally recommend papain for neural cell isolation. The Worthington Papain Dissociation System is a set of reagents intended for use in the tissue dissociation method of Huettner and Baughman (1986). Each lot is use tested for performance in rat spinal neural cell isolation, and this kit provides freshly prepared enzyme solutions for each dissociation:
Image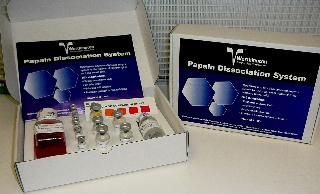 Additional Information