Worthington Tissue Dissociation Guide
Cell Isolation Theory: Tissue Types
This section summarizes the general characteristics of extracellular matrices associated with various types of tissue. Coupled with the descriptions of individual enzymes offered in the next section, this information will aid in choosing the enzyme(s) best suited for a particular tissue.
Tissue Tables
The Worthington Tissue Tables provide references useful to researchers interested in tissue dissociation and cell harvesting procedures. The references are organized by Tissue and Species type and linked to PubMed citations. The Cell type, Enzymes, and Medium for each reference is provided.
To search by specific criteria, use the Tissue References Search Tool.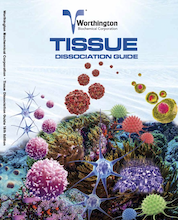 Tissue Tables (references, grouped by tissue type and species)