Worthington Tissue Dissociation Guide
Use-Tested Cell Isolation Systems
Worthington currently offers Cell Isolation Systems which are kits containing enzymes and other required reagents for performing tissue dissociations without having to purchase individual packages of one or more enzymes and pretesting various lots of some enzymes. Some are designed for working with specific tissues, and one kit is a general purpose procedure development system. In all cases, the enzymes which are included in the kits are regular Worthington products which can be purchased independently.
Below are descriptions of each of the current kits.
Tissue Tables
The Worthington Tissue Tables provide references useful to researchers interested in tissue dissociation and cell harvesting procedures. The references are organized by Tissue and Species type and linked to PubMed citations. The Cell type, Enzymes, and Medium for each reference is provided.
To search by specific criteria, use the Tissue References Search Tool.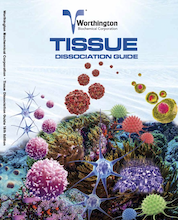 Tissue Tables (references, grouped by tissue type and species)