Worthington Tissue Dissociation Guide
Dissociating Enzymes: Trypsin Inhibitor (Soybean)
The trypsin inhibitor from soybean inactivates trypsin on an equimolar basis; however it exhibits no effects on the esterolytic, proteolytic or elastolytic activities of porcine elastase. Cell isolation procedures occasionally call for a trypsin inhibitor, usually the inhibitor from soybean (Worthington code SIC).
Tissue Tables
The Worthington Tissue Tables provide references useful to researchers interested in tissue dissociation and cell harvesting procedures. The references are organized by Tissue and Species type and linked to PubMed citations. The Cell type, Enzymes, and Medium for each reference is provided.
To search by specific criteria, use the Tissue References Search Tool.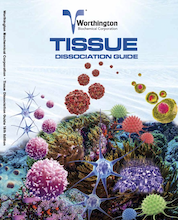 Tissue Tables (references, grouped by tissue type and species)